Bhutan has one of the youngest populations, with 60% of its population below the age of 25 years which represents a positive force with enormous potential to contribute to development. Bhutan is faced with challenges of dealing with high youth unemployment, social and health especially related to sexual and reproductive health. Bhutan has one of the highest adolescent fertility rate of 59 in the region with 15% of the girls already having given birth before the age of 18 years old as per the Bhutan Multi indicator Cluster Survey 2010. The sexual debut is also early among the Bhutanese youth (female is 16 years and  male is 15 years) and about one third of the HIV infection is among young population between 15-24 years old. In a 2000 survey, youths identified lack of knowledge in rural areas, unplanned sex and lack of precaution and guidance as main reasons for adolescent pregnancy.
Bhutan's National Youth Policy (2009-2014) defines youth as persons from 13-24 years old.  The National Youth Policy is guided by the national development philosophy of Gross National Happiness and its principles and values associated with the policy blend along with four pillars of GNH namely, sustainable and equitable socio economic development; conservation of environment; preservation and promotion of culture; promotion of good governance.
What is UNFPA doing?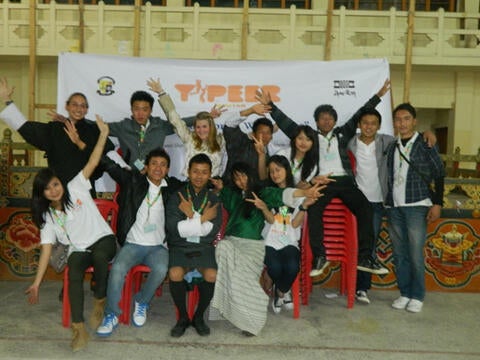 Globally and in Bhutan UNFPA works to empower young people and to ensure that every young person's potential is fulfilled. The Bhutan country office embraces this as an opportunity to promote youth leadership and empowerment, bringing novelty in working with and for young people.
UNFPA is strategically collaborating with the Government, non-governmental organizations, youth groups and other United Nations organizations through technical support, capacity-building and advocacy to:
Institutionalization of life skills based sexuality education in the schools:
UNFPA supports Life Skills Education implementation in schools with an aim to help both teachers and students adapt and build positive behavior that will enable them to deal with the day to day confrontation of life.
Support to strengthen the research and curriculum on sexuality education in the teacher training colleges:
Institutionalization and expansion of YPEER network in the higher learning and vocational institution:
The Youth Peer Education Network (Y-PEER) is a groundbreaking and comprehensive youth-to-youth initiative pioneered by UNFPA. Y-PEER is an efficient and effective means of promoting youth participation in issues relevant to them, such as sexual and reproductive health, HIV/AIDS awareness, and leading healthy and safe lifestyles.
Support to increases access to information and services to sexual and reproductive health through adolescent friendly health services and integrated youth friendly services.