Human Rights & Gender Equality
Despite strong political commitment and a supportive legal and policy framework, Gender-based violence/ Violence against women in Bhutan remains a significant problem.
The Bhutan National Health Survey of 2012 highlighted among all women aged 15-49, 74 percent believe that a man is justified in beating his wife or partner if they neglected their children, argued with their partners, refused sex or spoiled meals.
The violence against women study conducted by National Commission for Women and Children revealed that the prevalence of 32.9 percent of women reporting violence may be considered "moderately high", as compared to countries in the WHO-multi-country VAW study, where the rates ranged between 15 to 71 percent.
A local CSO - Respect Educate Nurture Empower Women (RENEW) based in Thimphu has recorded more than 1,217 domestic violence cases from 2008 to 2012. In 2014, RENEW provided services to 382 walk-in clients out of which 15 were male and 367 female. These data are staggering for a small country like Bhutan with population of around 0.7 million.
The one stop crises center at Jigme Dorji Wangchuck National Referral Hospital at Thimphu's record shows 325 cases of domestic violence, 573 cases of common assault and 35 cases of sexual assault recorded in 2015 alone.
UNFPA responses
UNFPA Bhutan country office partners with the Royal Government, institutions and civil society organizations to effectively prevent gender based violence through advocacy and knowledge sharing. We capacitate community based support systems to prevent and respond to GBV through community based volunteers. These include conducting community dialogues and development of local action plans on GBV prevention, capacity building of community champions and advocacy with district and local leaders to incorporate GBV and sexual and reproductive issues into the local development plans. Furthermore, we engage with religious personnel's to prevent violence against women and girls and work against other harmful cultural practices.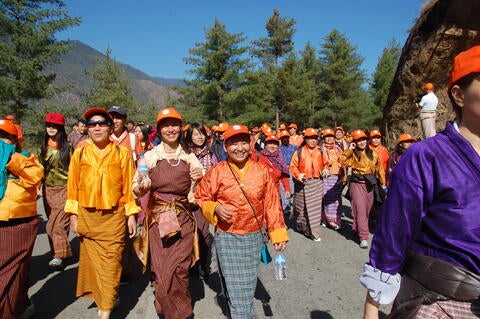 The rules and regulations the Domestic Violence Prevention Act of 2013 came into effect in January 2015.  Pursuant to the rules and regulations, UNFPA in partnership with other UN agencies, government and CSO is developing joint programmes to address the interrelated causes and consequences of gender based violence. Considering that victims' access to support services remains a key challenge especially in rural and remote areas, UNFPA builds capacity of the health workers, community volunteers and religious personnel's to advocate for prevention and respond to the need of the survivors.
Since 2011, UNFPA supported the Bhutan Nuns Foundation to engage women in the nunneries to manage and respond to GBV issues within their institutes and the communities they lived and practiced Buddhism.  UNFPA supported to implement GBV prevention efforts through training programs on life skills based education (LSE).  Through this programme, all the heads of 26 nunneries and over 55 heads of monastic institutions have been trained as ToT to implement LSE in respective institutes.  The heads of the monastic institutions also integrate GBV prevention messages through local level festivals during mass gatherings.  Since the monastic institutions are located in very remote areas, this approach has enabled to reach the unreached and this approach has also enhanced men's participation to prevent GBV in the remote communities. 
UNFPA also supported to advocate on integrating GBV prevention and management efforts into the annual local level government planning through multi sectoral taskforce chair (Dasho Dzongdas) and community volunteers.
In order to strengthen health sector response to gender based violence, UNFPA supported training of health workers on GBV management and prevention.  The Ministry of Health is undertaking an assessment of health sector response to GBV at various levels of health facilities through UNFPA support.