UNFPA: Delivering a world where every pregnancy is wanted,
every childbirth is safe and every young person's potential fulfilled.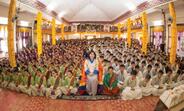 22 March 2017
Talking to the youths, Her Majesty said that it is your right to know about your body and that you must stay healthy to be productive citizen of Bhutan. Her Majesty commended the faculty, administrative staffs, and teachers of  Samtse College of Education for institutionalizing comprehensive sexuality education, starting Y-PEER
14 April 2016
UNFPA Bhutan Takes Life Skills Education Beyond Schools to Faith-Based Organizations
Recognizing Faith based organizations (FBOs) as potential catalyst for positive sustainable change, the United Nations Population Fund (UNFPA) with local NGO Respect Educate Nurture and Empower Women (RENEW) trained 30 teachers and students from monastic institutions. The training of trainers on Life Skills Based Education (

This monograph presents the findings from the analyses of the police crime data, National...

Religious personnel are highly respected in Bhutan and considered one of the social...
No vacancies currently available